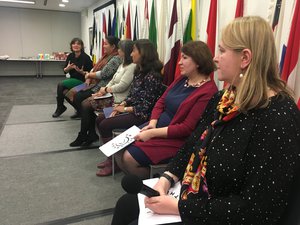 A performance workshop led by Around the Well, a company that emerged from a farewell event for Mothertongue, the Reading-based multi-ethnic counselling and interpreting service. Around the Well members include Dr Beverley Costa, psychotherapist and former CEO of Mothertongue, and Dr Teresa Murjas, Associate Professor in Theatre and Performance at the University of Reading. Beverley and Teresa are joined by professional interpreters Kamaljit Dosanjh (Punjabi and Urdu), San Maya Gurung (Nepali), Joanna Mungai (Polish) and Guida Shields (Portuguese), for whom storytelling is a way of seeking common ground. Between weaves together stories about migration, multilingualism, identity, empathy, loss and renewal.
Learn more about Pasalo Project here.

This event is free but registration is essential. To book tickets, see Eventbrite. Refreshments will be available. This event is wheelchair accessible but for any queries about access please email languageacts@kcl.ac.uk and we'll be happy to help you.

This event is supported by the Language Acts and Worldmaking Small Grants scheme. Part of the Language Acts and Worldmaking Worldmaking Fair.