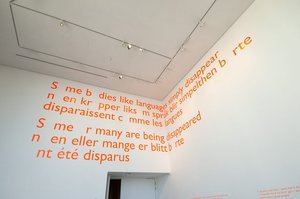 An intimate and informal evening, this Language Station event features readings, interventions and open conversations between the internationally-renowned poet Caroline Bergvall, and artists, writers and academics Erín Moure, Alba Cid, Harriet Cook, Julian Weiss, and Monica Acosta.
To tie in with the 'Travelling Concepts' strand of the Language Acts and Worldmaking Project, this is the first public-facing "Language Station" (a concept developed by Bergvall as part of her research towards her performances RAGADAWN and SONIC ATLAS, to account for her discussions with and recordings of poets/writers/translators of "minoritarian" languages in Europe) and it will focus on its special interest in Medieval Andalucía, as well as languages from Iberia (Galician and Ladino).
Short Introduction, Sonic Atlas, Caroline Bergvall
Chaired conversation & readings: Canadian translator and poet Erín Moure (via Skype), Galician poet Alba Cid, PhD researcher/Sonic Atlas project assistant Harriet Cook. 
Julian Weiss, KCL, on Ladino balladry in historical context. 
The evening closes with a conversation with and presentation by Ladino singer Monica Acosta.
At the heart of Bergvall's SONIC ATLAS is the process of revitalizing connections between languages active in Europe through the recorded translation and discussion exchanges of the Language Stations. Bringing together "language workers", "language traffickers", these encounters bring to the fore the all-important role of energising values of collaboration and friendship across borders and the relevance of poetic work and practice-led research for the renewal of translinguistic contact. 
This event is wheelchair accessible. To book tickets please see the evening's Eventbrite page. We look forward to seeing you there! Make sure to book as spaces are limited.

Caroline Bergvall is an artist, poet and vocal performer. French-Norwegian based in London, UK. Works across artforms, media and languages. The recipient of many awards and commissions, her work frequently develops through exploring material traces, literary documents and linguistic detail, language and literary history, sites and histories, hidden or forgotten knowledges. Her sparse textual, spatial and audio works often expose hidden or difficult historical/political events. Projects alternate between books and printed matter, audio pieces, collaborative performances, site-specific installations. A strong exponent of writing & performance methods adapted to contemporary audiovisual and contextual situations, as well as multilingual identities. Awarded a Cholmondeley Award (2017). First recipient of the art literary prize Prix Littéraire Bernard Heidsieck-Centre Pompidou (2017). Awarded a Bogliasco Fellowship, Italy. Visiting Professor, Kings College London since 2017-2019.
Monica Acosta Born in Colombia to a musical family, Monica started singing and playing the flute as a child. She chose music as a profession and studied classical singing (opera) and flute at University in her native Bogota. After graduating as a music teacher specializing in early years music education and singing, she decided to move to London. Once in London she joined the European Chamber Opera performing in several productions across the UK. She was selected to attend a one-year performance-training programme at the English National Opera, during which she discovered a passion for contemporary vocal music. In pursuit of this passion she gained a Master Degree in Contemporary Art and Music at the University of Roehampton. The study of several music styles motivated her to expand her performance and teaching projects to include contemporary and popular music including songs of Hispanic origin, Latin American repertoire and Sephardic songs. She has sung in several venues and festivals including the Barbican, The Spitz, Cargo, Glastonbury, Queen Elizabeth Hall, The Hub at Huddersfield Contemporary Music Festival, London Coliseum ENO and Limmud Newcastle. She has extensive experience as a singing and music teacher in primary and secondary schools, universities and as a private tutor. She has conducted vocal ensembles and choirs and most recently taught Sephardic Songs for the Jewish Music Institute in London. Alongside her performing and teaching career, Monica worked for several years as a contemporary music editor for Peters Edition, a classical music publishing company based in London. 
Alba Cid (Ourense, 1989) Alba writes and researches contemporary poetry, particularly in Galician. She is currently directing the John Rutherford Centre for Galician Studies at the University of Oxford. She reviews poetry (for the Radio Galega and various journals), enjoys photography and occasionally illustrates. Poems and texts by Alba have appeared in anthologies like No seu despregar (Apiario, 2016) and journals like Grial, Luzes, Nayagua, Oculta Lit and Dorna, where she sits on the editorial board. Her work has also been translated to Spanish, Portuguese and English (The Offing...). Since 2017 she has been sharing a 'Cabinet of Curiosities' via Tempos novos, which has also developed into a tinyletter.  
Harriet Cook is a PhD student in the Department of Spanish, Portuguese and Latin American Studies at King's College London. Her research looks at the nature of poetic creativity and takes medieval Galician-Portuguese love lyric and its contemporary resonances as a case study. She is a member of the Galician Film Forum and works as a literary translator from Catalan and Galician into English. She is also Research and Project Assistant for the artist Caroline Bergvall thanks to an internship funded by the Language Acts and Worldmaking Small Grants scheme.
Erín Moure Poet in English and English/Galician, translator of poetry—especially the syntactically strange or "difficult"— from Galician, French, Spanish, and Portuguese to English, plus (with Roman Ivashkiv) from Ukrainian to English. Lives in Montreal and Kelowna, works everywhere. Allergic person, friend, lesboqueer, cyclist commuter, small footprint on earth, cook. Doctor honoris causa, Universidade de Vigo, Spain, 2016, for contribution to poetry and translation and Galician culture. D. Litt. (hon.), Brandon University, 2008, for contribution to Canadian poetry. Woodberry Poetry Room Creative Fellow, 2017 Harvard University.
Julian Weiss is Professor of Medieval and Early Modern Spanish at King's College London. After receiving his DPhil at Oxford (1984), Julian held positions at the Universities of Liverpool, Virginia, and Oregon (where he was Head of Romance Languages); he was appointed to King's in 2001. An associated staff member of the Programme in Comparative Literature, he is also member of the international research group Seminario de Poética Europea del Renacimiento, based at the Universitat Autònoma de Barcelona, and one of the partners of Language Acts and Worldmaking. His research and teaching interests range widely across medieval and early modern Iberian literatures: he has published numerous books and articles on such topics as medieval poetic theory, medieval and Renaissance lyric, clerical narrative, theories of gender, early modern censorship, manuscript studies and this history of the early printed book. His current major project is a study of the early modern Hispanic reception of the Jewish historian Flavius Josephus (1st Century CE), which examines how the writings of this Romanized Jew were used by Christians, Jews and crypto-Jews to define Jewish identities and to understand the history of Jewish-Christian relations in Europe and the New World from 1492 to the later seventeenth century among, for example, the Sephardic communities of Mexico, Amsterdam and London. 
This is a Language Acts and Worldmaking Small Grants event. 
Part of the Language Acts and Worldmaking Worldmaking Fair.