Invitation
We invite translators and interpreters to take part in a two-day creative workshop which will use dramatic techniques and artistic practice to explore aspects of working with languages in society today.
Workshop
The workshop will take place at King's College London over two days and will be led by theatre director Sophie Besse (Director of theatre company PsycheDelight). The workshop will provide innovative tools to enable participants to explore the nature of their work as well as their own thoughts and experiences. Participants will have the opportunity to take part in a range of activities drawing on artistic practices relating to drama, photography and sculpture with the aim of creating a forum for reflection on their work. These activities will also go some way towards addressing how public service language professionals can communicate the inspiring work they do without breaching codes of conduct and confidentiality.
Programme
Friday 11th May 2018:  2pm - 5pm and Saturday 12 May 2018:  10.30am - 5.30pm
The workshop is free of charge and participants should attend the full two-day programme. Some small travel bursaries will be available.
Click here to register
Please contact languageacts@kcl.ac.uk to express your interest in taking part. We will be happy to answer any questions you might have about the workshop.  
Context
This is part of a project within Language Acts and Worldmaking (read about the project here) called 'Languages at Times of Crisis' through which we seek to explore the vital work carried out by translators and interpreters. The project will explore the diversity of this type of work and therefore participants are encouraged to consider 'crisis' in the broadest sense in relation to their work. This may include work in environments such as social care, healthcare and the law, as well as many others. 
'Languages at Times of Crisis' has been developed by Dr Alice Hazard and Dr Sophie Stevens and seeks to challenge the often-quoted idea of 'Modern Languages in Crisis' by connecting with people who use different languages to do their critical and often life-changing work. We seek to gain a greater understanding of this work and at the same time offer a space for language professionals to develop techniques for communicating and reflecting upon aspects of their work in dynamic, creative and perhaps unexpected ways.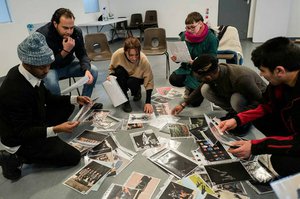 Workshop run by Sophie Besse. Photo by José Farinha