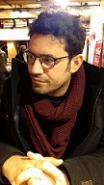 Travelling Concepts Leverhulme Early Career Fellow
Dr Yuval Evri joined Travelling Concepts as a Leverhulme Early Career Fellow in January 2019. For information on the research he is undertaking at King's see here.
Yuval is a sociologist and culture researcher, his research focuses on the intellectual and political history of Palestine at the turn of the 20th century. The issue of Jews of Muslim lands and Arab-Jewish thought lie at the heart of his research and teaching interests. 
After completing his doctorate at Tel Aviv University in the Department of Sociology and Anthropology, he has held positions as a EUME postdoctoral fellow at the Institute of Advanced Studies in Berlin (2013-2014) and postdoctoral fellow at the Hebrew University (2015-2016), Visiting Scholar at the Centre of Islamic Studies Cambridge University (2010-2012) and apost-doctoral fellow at SOAS – University of London (2016-2018). Between September 2018 and December 2019, Yuval was Visiting Scholar at the Herbert D. Katz Center for Advanced Judaic Studies at University of Pennsylvania.