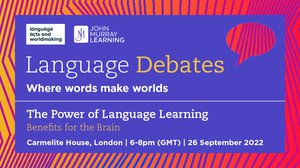 Join the Centre for Language Acts and Worldmaking and John Murray Learning to celebrate the European Day of Languages at John Murray's stunning London rooftop location for a live discussion with our expert panel of leading academics and practitioners.
During this lively conversation with Q&A, Rowan Hooper, podcast editor at New Scientist, host of the New Scientist Weekly podcast and author of Superhuman - Life at the Extremes of Mental and Physical Ability, will lead a discussion with our team of linguists to reveal the cognitive benefits of bi- and multilingualism, including:
How language learning can improve our memory
The impact of learning languages through music
How language learning can improve overall brain health
How our emotions are influenced by language learning
Suggestions for teaching and teachers, policy, advocacy and more
Rowan will be joined by Dr Thomas Bak from The University of Edinburgh, Desta Haile of Languages through Music, Dr Dina Mehmedbegovic-Smith of University College London and Christine Schallmoser of King's College, London.
Drinks and nibbles included in ticket price.
Powered by John Murray Learning, home of Teach Yourself and the Michel Thomas Method, and in association with Language Acts and Worldmaking and King's College London.
Join the debate. Follow @tyopenroad and use the hashtag #LanguageDebates to follow the discussion around significant ways to transform our relationship with languages and with the world around us.
Meet our panelists
Rowan Hooper is a senior editor at New Scientist magazine in London, and host of the award-winning New Scientist Weekly podcast.
He is the author of Superhuman: Life at the Extremes of Mental and Physical Ability and most recently, How To Spend A Trillion Dollars. His work has been published in the Guardian, Washington Post, Wall Street Journal, Wired and The Economist.
Desta Haile is a British-Eritrean educator, vocalist and creative consultant. She started Languages through Music in 2014 and has designed and delivered workshops for festivals including Southbank's Africa Utopia and BOZAR's Afropolitan Forum. Languages through Music was awarded a grant from BOZAR in 2020 to develop resources for learning more African languages through music. Desta is a freelance facilitator for Malala Fund and the Deputy Director of the Royal African Society since 2021.
"Sing Yourself Up" talk for BOZAR Afropolitan Forum:
https://www.youtube.com/watch?v=PHYZv4NLpzw
Born and raised in Cracow, Poland, Dr Thomas H Bak studied medicine and worked as a clinician in psychiatry and neurology in Bern, Berlin and Cambridge. Since 2006 he has been working at the School of Philosophy, Psychology and Language Sciences (PPLS) at the University of Edinburgh.
His main research interest is the relationship between language, brain and mind, with a recent focus on the impact of language learning and multilingualism on cognitive functions across the lifespan and in brain diseases such as dementia and stroke.
Dina Mehmedbegovic-Smith is an associate professor of Education and Applied Linguistics at University College London, Institute of Education. Dina teaches on a range of programmes at PGCE, MA and doctoral level.
Her research focuses on attitudes to bilingualism/multilingualism, minority languages and positioning of languages in relation to domination, political power and language disappearance. Her concept Healthy Linguistic Diet is an innovative approach to language learning and has been endorsed by the EU Commission in their report: Rethinking Language Education, as a part of the EU Language policy review.
Christine Schallmoser holds MAs in Hispanic Linguistics (2008), in Teaching and Education, with a focus on German and Spanish (2011), and in German as a Foreign Language (2012).
She taught German at the Goethe-Institut in Buenos Aires and the Vienna University of Technology, before joining the German Department at King's as OeAD-Lektorin in 2011. In 2016, she was appointed Language Co-ordinator, and in 2019 became Lecturer in German Language Education.
Christine Schallmoser's current research focuses on learner autonomy, motivation and emotions in language learning.
Tickets
Register at https://l.linklyhq.com/l/1TI6b. There is an early bird discount until 15 September 2022.
Discover more about our book series.