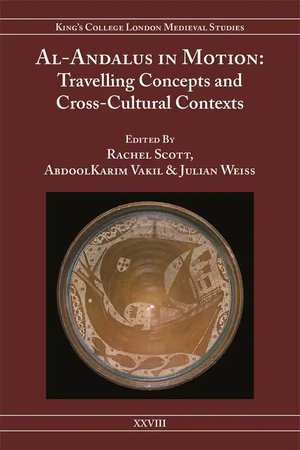 A new volume of essays, Al-Andalus in Motion: Travelling Concepts and Cross-Cultural Contexts, edited by Rachel Scott, AbdoolKarim Vakil, and Julian Weiss, has been published by King's College London Medieval Studies.
The volume, which arises from Travelling Concepts research, as well as a conference held in Istanbul in November 2018, explores how al-Andalus has been transformed into a "travelling concept": that is, a place in time that has transcended its original geographic and historical location to become a figure of thought with global reach.
The essays, authored by an international group of scholars, show how Iberia's medieval past, where Islam, Judaism and Christianity co-existed in complex, paradoxical and productive ways, has offered individuals and communities in multiple periods and places a means of engaging critically and imaginatively with questions of religious pluralism, orientalism and colonialism, exile and migration, intercultural contact and national identity. Travelling in their turn from the medieval to the contemporary world, across Asia, Africa, Europe and the Americas, and covering literary, cultural and political studies, critical Muslim and Jewish studies, they illustrate the contemporary significance of the Middle Ages as a site for collaborative interdisciplinary thinking.