Language Acts and Worldmaking has launched a new podcast series looking at the way the COVID-19 pandemic has been narrated by print and digital media around the world. The series seeks to understand the cultural and geopolitical significance of the virus by comparing and analysing the narrative in more than 110 countries, and in 12 different languages, English, French, Spanish, Portuguese, Italian, German, Arabic, Hebrew, Mandarin, Korean, Japanese and Russian. More than 1.1 million articles were examined. 
The podcast series also analyses the interesting new terminology that has emerged from the pandemic. How do the terms we hear in the UK – around, for example, the concepts of war, contagion, invasion, isolation, community – compare and relate to those that might circulate and form meaning in other cultures? What can we learn from this? How has language been used as propaganda by governments?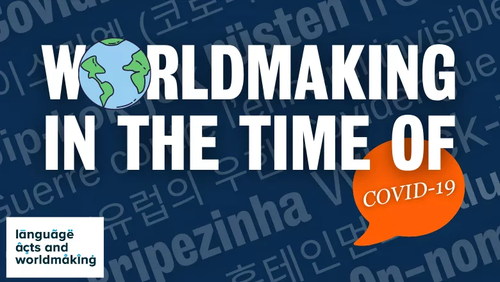 The podcast is launching one year on from when the UK entered its first lockdown, March 2020. 
Funded by the King's Together Coronavirus Rapid Response Fund, the Worldmaking in the Time of COVID-19 project was led by Professor Catherine Boyle and Dr Renata Brandão. With thanks to our researchers, Juan Albornoz Rodriguez, Judy Alsoufi, Maria Chiara Aquilino, Pola Awdankiewicz-Baeta, Anita Baratti, Wing In Choy, Louise Curtin, Holly Henry, Esther Kentish, Hyun Kyung Lee, Maria Jane Marimon, Aleida Cristina Mendes Borges, Benjamin Oldfield, Eitan Oren, Joseph Prestwich, Natalia Stengel Pena, Iman Taleb, Lindsay Warner, and Tatiana Wells.
Have you listened to the podcast yet? Tell us what you think of it!