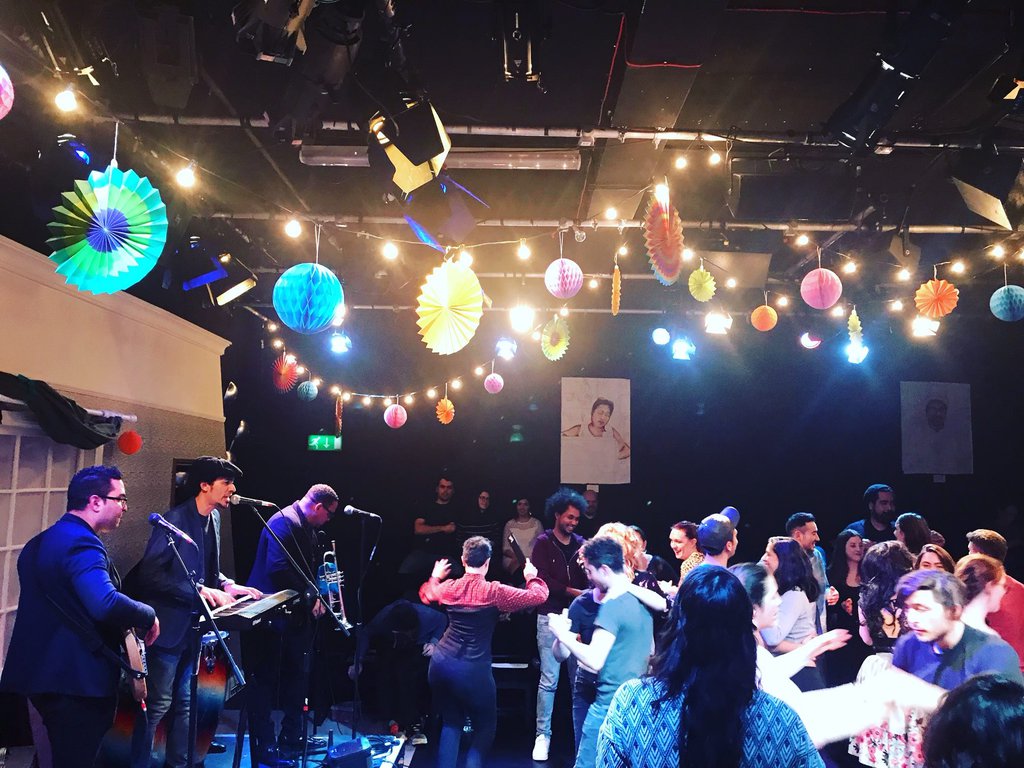 Barrio – the event. The idea to create Barrio came about as response to an invitation by the Southwark Playhouse to do a workshop involving the community at the Elephant and Castle's Shopping Centre. Barrio was also the name of a song I had written some time ago, inspired in one of the traders at the Elephant. After many conversations with the theatre and potential collaborators, the workshop grew into an event in the shape of a variety night, first scheduled to take place on December 2nd 2018. By then, I had already began interviewing a small group of traders and had invited them and a handful artists to write, draw or record their stories and impressions about the places they inhabited or worked in across a variety of disciplines. Although not fully aware at the time, I was also looking for ways in which to celebrate the often unnoticed, undervalued contribution of migrant communities to the city of London. Portraiture came to mind as a creative attempt to reinstate their sense of belonging within the context of a live event. Song, drawings, and poetry were three forms which would become integral to the variety night.
Barrio - the song. The traders I first approached are extremely busy people, often juggling with customers and getting their own work done in relatively small working environments. Their shops are also more than just trading places; they're vital meeting points for chats, advice and coffee. So I remember feeling very awkward when I first started interviewing traders. My impressions, the way other people talked to them and about them, their choice of language depending on who was in the shop, seemed to capture more about the individuals themselves then the information I was gathering. So writing a song – albeit a fictional account of a seamstress that arrives in London approximately 25 years ago and starts trading at the shopping centre – was an oblique attempt to give something back that could resonate with somebody's life experience without intruding into the detail of their personal story. On this occasion and despite my initial doubts, sharing the song opened up a different quality of rapport with the traders, one where trust, respect and the pleasure of sharing in complicity were at the heart of the exchange.  Below are the first verse and the chorus of the song. The music for Barrio has been composed by Eliane Correa.
Barrio
In 1993

I came to live in London
I set up my small shop
With one thing in my mind
To have my child in peace
Away from all the troubles
I was young back then, I had big dreams then
Luck was on my side
This is my barrio
This is my story
The place where I belong,
The place that I call home
This is my barrio
Esta es mi historia
Mi casa yo la llevo en mi memoria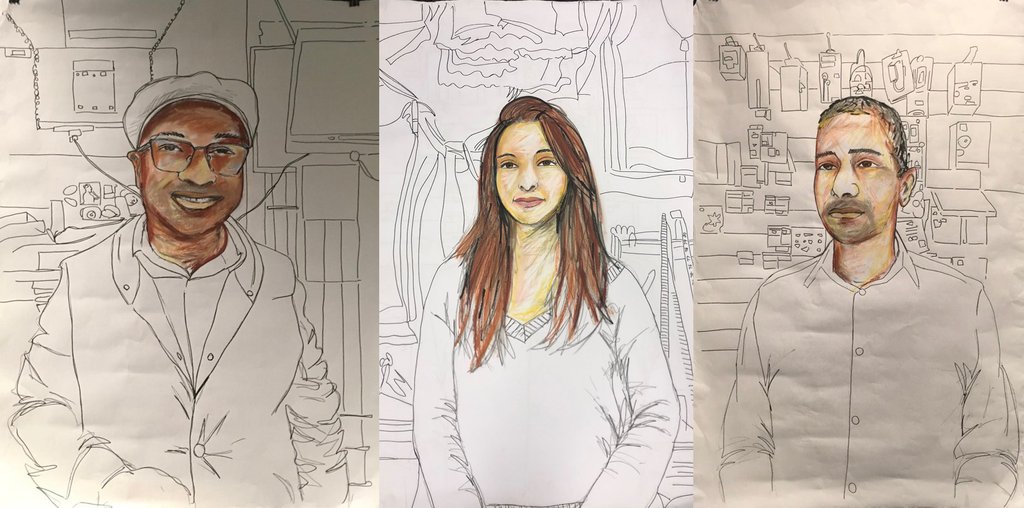 Meg Peterson was not in London on 3 March so sadly, she missed the show. However, her portraits hung on the walls of the theatre space surrounding the audience and were an integral part of Barrio. The description below, written by Meg, was read by Cinthia Lilen, one of our compères on the night.

This series depicts five of the activists and traders connected to Elephant & Castle Shopping Centre, as part of a wider project called Include Us In, documenting local business owners and community groups in particular areas where projects take place, to celebrate these key pillars of communities. These portraits were made from photographs taken during conversation with the subjects and depicted using selective use of colour to highlight the most important aspect of each piece – the people themselves.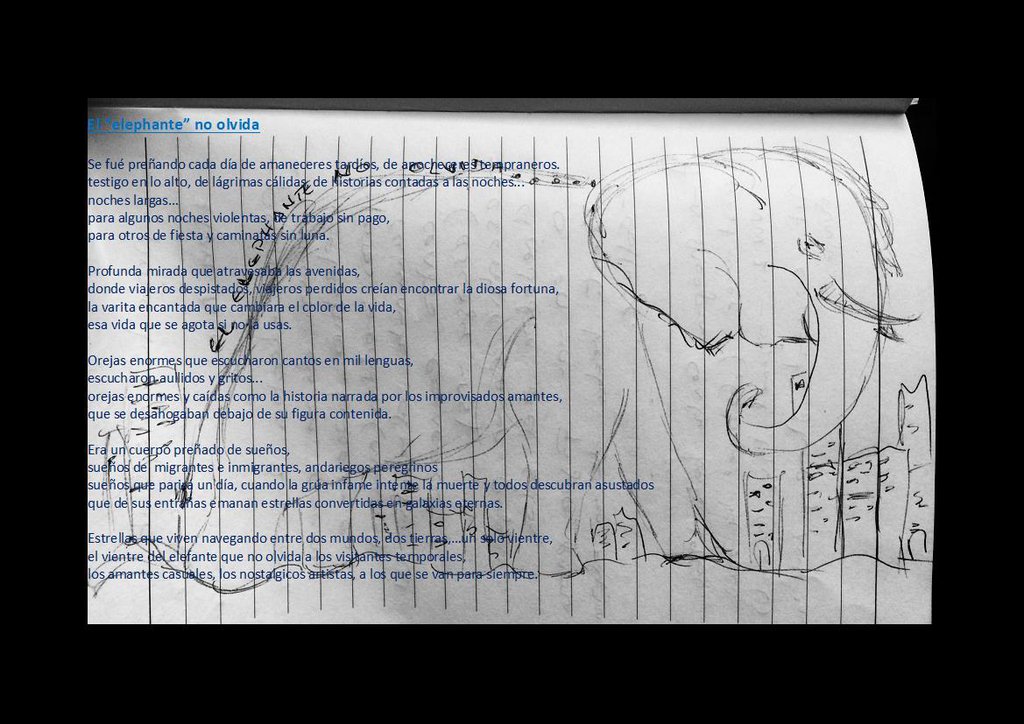 Sonia read her poem on the night, followed by a version of the piece in two languages (English and Portuguese), read by Almiro Andrade. A recorded version of the poem will follow shortly. 
***
The Elefan doesn't forget (extract), translation into English by Mary Ann Vargas. 
El "Elephante" não olvida, tradução para o Português: Almiro Andrade.
Aquelas orelhas enormes já ouviram músicas em mil línguas
Ouviram uivos e gritos...
Huge, drooping ears, como a história contada por amantes não-premeditados,
quando eles se finalmente sucumbem à paixão debaixo de sua pequenice
It was a body pregnant with dreams
sonhos de migrantes e imigrantes, migrant dreams, saracoteantes peregrinos
sonhos que darão à luz a qualquer dia, assim que aquele infame guindaste atentar /
sucumbir à morte
Eternas galáxias nascerão de suas entranhas like stars that'll frighten everyone
Stars that live navigating between two worlds, two lands, ...
Estrelas que vivem navegando entre dois mundos, duas terras, ...
a single belly, uma única barriga,
the belly of the elephant that does not forget
a barriga do elefante que não se esquece
the temporary visitors,
the casual lovers, the nostalgic artists,
dos amantes casuais, dos artistas nostálgicos,
to those who leave forever
por aqueles que nos deixaram para sempre

On 10 December 2018, the Mayor of London approved the shopping centre's demolition, causing great concern and uncertainty amongst the community. By then, Barrio had already been rescheduled for the 3 March, but the news prompted me to question the nature and purpose of the event altogether.  Was this the right time to celebrate anything, and if so, why, how, and most importantly: who for? 
3 Responses
After seeing Barrio, I finally understood what going to church on Sundays actually means for so many people. A precious feeling of belonging to a community! I've laughed my head off, I've been moved to tears, together we've encouraged a group of beautiful girls to let go and relish dancing on stage. We've sung together, sweated and danced yearning for our homeland, for our culture.  And we've done this together. To yearn together is different. We recognise each other together, we bond, and we celebrate. So please, let there be more Barrios on every Sunday!

(Chusi Amorós, audience member, theatre maker and co-founder of 27 Degrees Theatre Company)

I was invited by Mary Ann to take part in Barrio (a Latin American variety night) with a couple of my spoken word poems at Southwark Playhouse which is in Elephant and Castle a place known as the Latinx Neighbourhood, the Washington Heights of London if you will and Southwark Playhouse is the local theatre. I've been to that theatre many times to see great plays even a Mexican one, but the audience was mostly British middle class. Southwark wanted to give the Latinxs community a space in their own barrio and l waited expectant to see if they would come so we could tell them, we are creating for you, you're not invisible, we see you, not the stereotype you, not the caricature you, but the real you. And they came, one by one they walked in and suddenly the theatre became a Fiesta, the British middle class people were still there but they were dancing to cumbia hand in hand with us, for a moment it didn't matter who was from where or who could speak what language, it was electric, and l feel so privileged to have been a part of it.
(Ana Torre, actor, playwright and spoken word artist)
Live music, dancing, comedy, poetry, salsa and a pretty fierce Latina drag queen! Last night we turned The Little into a dance floor to celebrate the incredible Latin American community in the Elephant 🐘

Congratulations to everyone involved in BARRIO for a fantastic evening. We loved having you! 🎵🎹🎺🎤
(Southwark Playhouse's facebook page, 4 March)