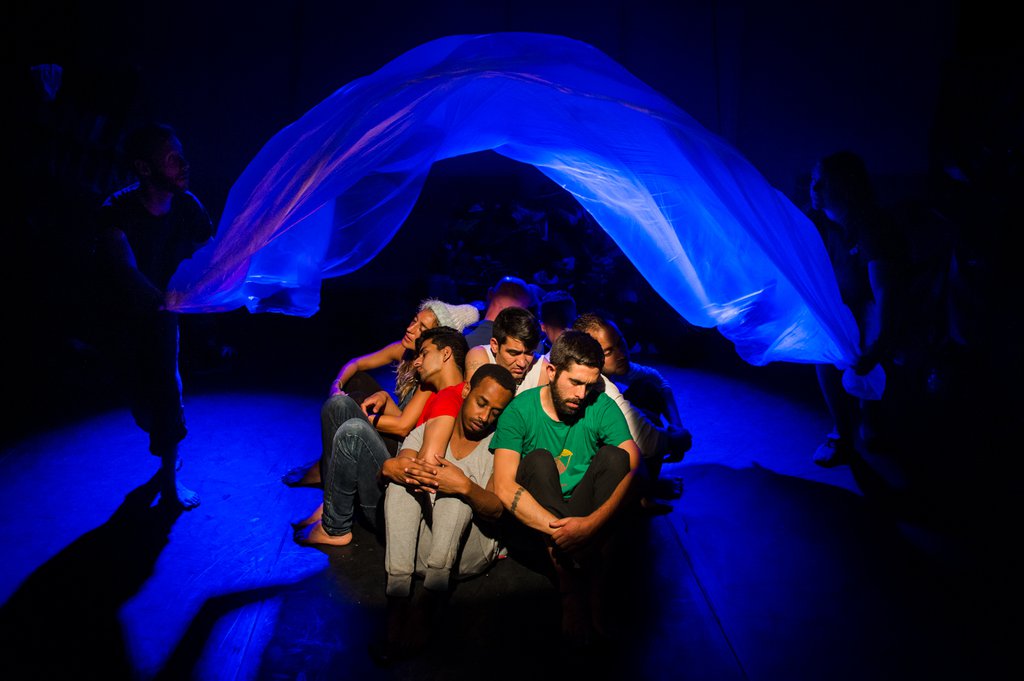 An image from Borderline by PSYCHEDelight. Photo by José Farinha
Borderline at the Pleasance Theatre, March 2018
I and some of my colleagues from Language Acts and Worldmaking went to see Borderline last week at the Pleasance Theatre in London. The play was devised by Sophie NL Besse and a group of refugees and European actors in 2016 after the closure of the refugee camp in Calais, where Sophie had been volunteering and running workshops with her theatre company, PSYCHEdelight. The play brings together European actors with refugees from a range of countries, many of whom are now living in different parts of the UK, to explore, dramatise and make comedy out of some of their experiences in the camp in Calais. The show has recently been on tour to India and Denmark and, Sophie told me, has changed since its first run in London in 2017. The ensemble has grown and sometimes changes because of the different commitments of the members as they start to set up life in the UK - Sophie told me that one refugee actor was not available because their appointment at the Home Office was finally confirmed - but I sense that the play also changes as time passes and the members of the ensemble view their experience in Calais in new and different ways and as they get to know their audiences. They do this in interesting ways and seeing Borderline was an experience; in the bar area of the Pleasance, beautiful artwork produced by some of the refugees who are not performers was on display. Following the performance, there was a frank post-show discussion and sharing of extraordinary animations created by Majid Adin for 'RocketMan' by Elton John and the Help Refugees charity. The openness of the Borderline team and their honesty in sharing their experiences was moving and stark.
What does this mean for the audience experiencing Borderline?  
It means that the audience gains an insight into the complexity, instability and sometimes sheer madness of the refugee experience, particularly in Calais, which challenges the generalisations that can so easily be made. It shows moments of fear at precarious crossings of roads, seas and entry points but also fear of vermin, isolation and, sometimes, violence experienced in the camp. It also shows moments of fun when the donations arrive and one man ends up with 'Jude Law's leather jacket', when a group of young men opt to learn English in three days and when some of the refugees show their wit by outsmarting officials. The fun and fear intersect constantly as we are reminded that these people can only look ahead, keep going and move on because returning is not an option, and may never be. The play doesn't shy away from the difficulty of the decisions that the refugees had to make and the thorny topic of whether they could, and should, have sought asylum elsewhere, before arriving in Calais. This is both essential and effective because we are often all too quick to make judgements but not to ask the question, what would I have done as an educated, talented and creative individual fleeing from my country but wanting prospects for the future? And whatever you might think of the issues raised by Borderline, you cannot get away from the ingenuity, skill and energy of the ensemble.
Worldmaking on Stage: Interactive Theatre Workshop at King's

Sophie Besse has clearly worked hard to enable the refugees to explore their experience and feel bold in sharing it. Her skills at working across and through languages, creating an environment of inclusion and using movement and gesture to explore lived experiences and emotions is evident, invigorating and enables different types of interactions between the actors. She explored some of these techniques in a workshop called 'Worldmaking on Stage: Interactive Theatre Workshop' in collaboration with Language Acts and Worldmaking in October 2017. Bringing to life all 26 languages in the room she encouraged participants to listen, really listen, to a new language and to try to repeat some sounds or words, paying attention to the rhythm of the speaker's voice. As well as listening, she challenged participants to look by holding the gaze of another person for two minutes. This created a sense of intimacy, respect and an almost meditative moment of connection with someone else, as well as with the rest of the group who were also doing the same activity in their respective pairs. She brought along Enayat, one of the actors from Borderline, who directed, energised and inspired the group to act out multilingual versions of everyday scenes. This made participants, including myself, feel uncertain and forced us to listen to one another and work together. It also made us celebrate the moments of communication achieved through speech and gesture that enabled us to work out, for example, the platform a train would leave from. The workshop brought to light the vast range of languages in the room and their differences, unique sounds and the intonations of native speakers. But it also shed light on words that we share, the transformative power of listening and the joy of interacting with others through play.