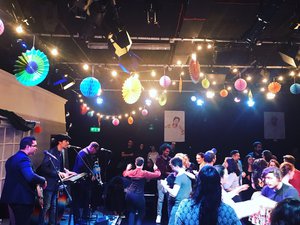 "After seeing Barrio, I finally understood what going to church on Sundays actually means for so many people. A precious feeling of belonging to a community!"
Following on from our hugely successful sell-out event earlier this year, Southwark Playhouse is excited to present another evening celebrating our Barrio. Join a group of artists from Latin America and across the world for an evening of song, dance, art, spoken word, comedy and translation. Barrio will celebrate the diversity and resilience of the community living and working in the Elephant in times of change.
Full line-up to be announced. Tickets £7. For updates and to purchase tickets, please see the Southwark Playhouse website.
Barrio is directed by Mary Ann Vargas and is a collaboration between Southwark Playhouse and Language Acts and Worldmaking.