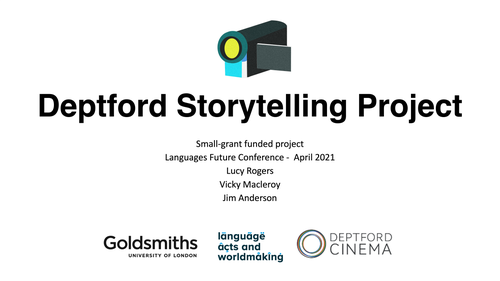 Project Directors - Lucy Rogers (Deptford Cinema), Jim Anderson and Vicky Macleroy (Goldsmiths, University of London) 
Online launch on Friday 26 March from 6.00 - 8.00 pm on DC @ Home.
The Deptford Storytelling Project brought together people of different ages, languages and backgrounds to make films about people's lives in Deptford. Different languages, voices, poetry, dance and ceremonies were used by the filmmakers to tell their stories about families, friendships and communities. The online screening brings together 8 of the original 3–5-minute films with recorded and written introductions from the filmmakers. 
The online screening will be available to watch for 6 weeks from Friday 26 March - Friday 7 May 2021.
A detailed description of the films and filmmakers is available on the project's brochure.
Deptford Cinema volunteers, Louis Holder, Rob Szeliga and Lenah Susianty and many others, are supporting this online event.
The project directors will hold a project presentation at the Languages Future conference on Friday 16 April 2021.