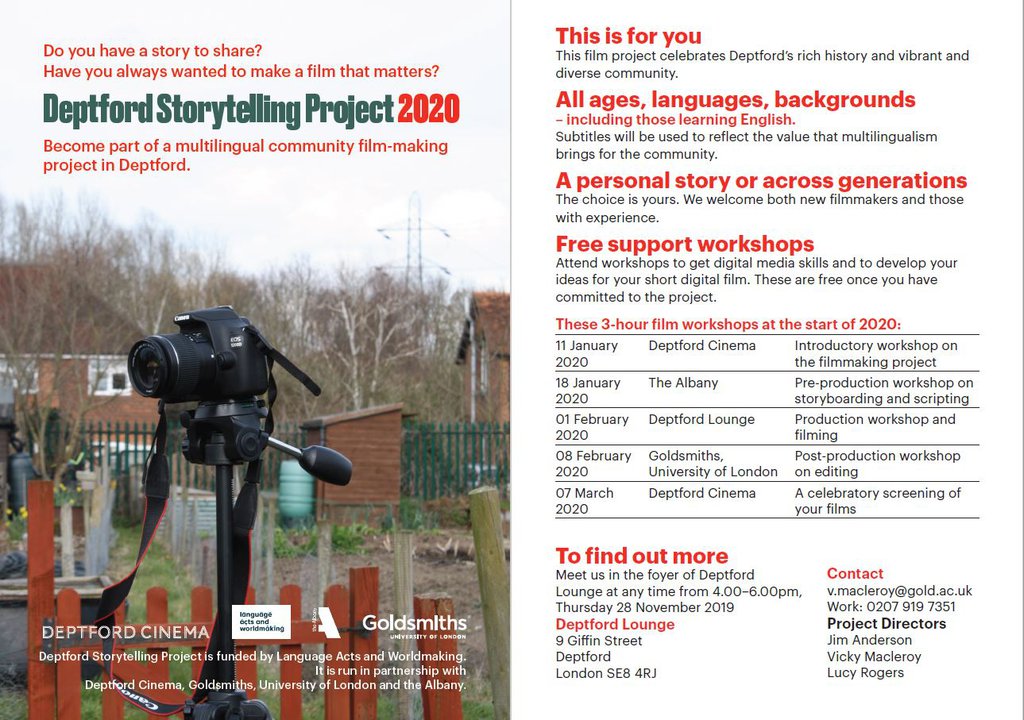 Do you have a story to share? Join the Deptford Storytelling Project to become part of a multilingual filmmaking community and celebrate Deptford's rich and diverse history.
All ages, languages and backgrounds are welcome - including those learning English. We use subtitles to reflect the value that multilingualism creates for the community.
Free workshops
Attend free workshops to get digital media skills and develop your ideas for your film. The dates for the workshops are:
11 January 2020 - Deptford Cinema - Introductory workshop on the filmmaking project
18 January 2020 - The Albany - Pre-production workshop on storyboarding and scripting
01 February 2020 - Deptford Lounge - Production workshop and filming
08 February 2020 - Goldsmith's, University of London - Post-production workshop on editing
07 March 2020 - Deptford Cinema - A celebratory screening of your films
Find out more
To find out more, meet the Project Directors in the foyer of Deptford Lounge at any time from 4-6pm, Thurs 28 November 2019.
Deptford Lounge, 9 Giffin Street, Deptford, London SE8 4RJ.
Contact
Project Directors: Jim Anderson, Vicky Macleroy, Lucy Rogers, v.macleroy@gold.ac.uk