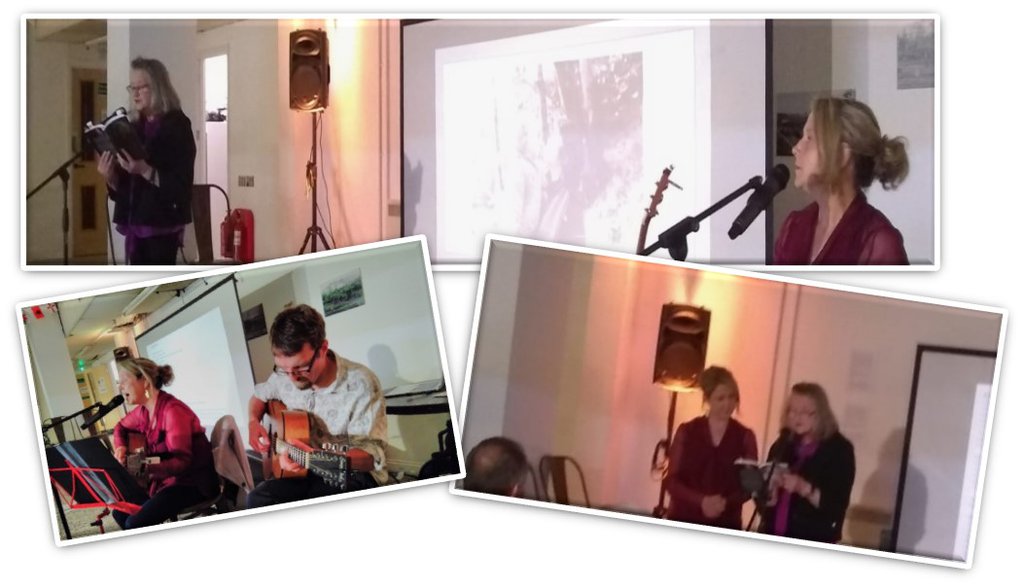 About
This public event, organised by Maria Fernandez-Parra and Federico Lopez-Terra (Swansea University), took place on 6 June 2019 at Volcano Theatre, Swansea. Featuring two bilingual speakers from south west Wales, as well as poetry readings and live music, its aim was to raise awareness of languages memories and how these affect the development of the self, personal and social narratives as well as integration in the community.
The featured artists, celebrated poet Menna Elfyn, who was imprisoned for the Welsh language cause in the 1970s, and her daughter the writer Fflur Dafydd, performed live translation and debated the impact of their inherited languages memories, as well as putting forward ideas and suggestions for future memories.
The mother-daughter duo delighted the audience with their live poetry and music performance in an inter-generational and inter-linguistic performance exchange from Welsh to English and back. The performers took the audience through a personal family journey dating back to several generations of Welsh artists. This trip down memory lane soon become a metaphor of the exchanges between Wales and England and the history of Welsh memories and its linguistic and cultural heritage.
Menna started by introducing the audience to the concept of bondo (bonding) and read in Welsh and English poems from the homonymous collection showing to what extent this interpersonal link relates to languages. The song Elfyn, sung by Fflur, is a tribute to Fflur's grandfather (and Menna's father) and took the audience through his influence as a Welsh language hymnist.
Menna also read Cocklewoman - Penclawdd and Nebbish. She was then joined by Fflur and the musicians for Murmuron. Fflur sang three more songs in Welsh with English translations projected on the screen, Y Porffor Hwn, Ffydd Gobaith Cariad, Frank & Moira. This was followed by more readings from Menna, Marwnad i ieithoedd and Drws yn Epynt. There was also a reading from Fflur, The White Trail - Mabinogion, before the joint performance on Gweld y mor (First sight of the sea collaboration). Finally, Menna and Fflur read together Pa Beth yn Dyn to Waldo Williams. 
Menna and Fflur also engaged in a question and answer session after their performance with the public and the organisers. This event was funded by the Language Acts and Worldmaking project and supported by Wales PEN Cymru. For a Welsh-language poster of the event, click here. For an English-language poster, click here.