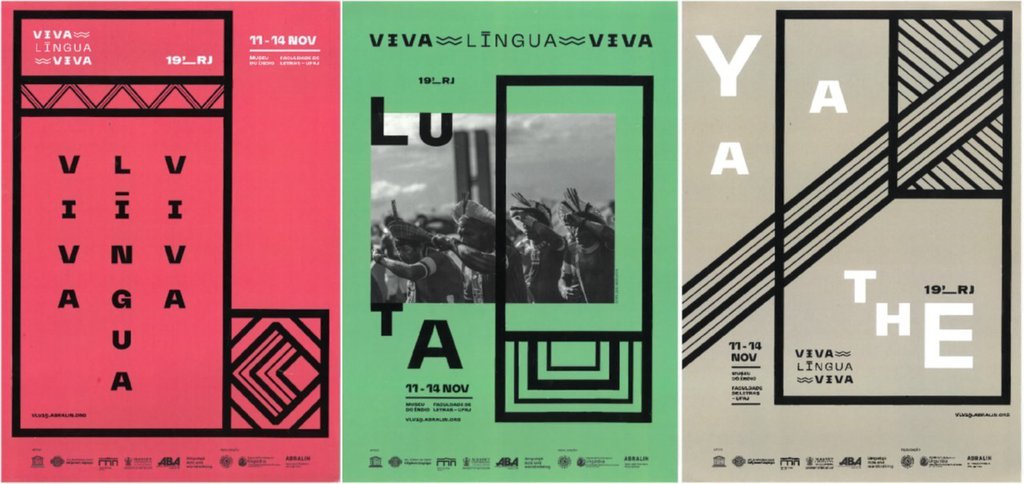 About
The Kariri-Xocó Indigenous community (pop. ~3300) live in Alagoas state, North-Eastern Brazil, and represent the fusion of remnant tribal groups following three centuries of Jesuit missionary activity and forced relocation to villages. Their language, Dzubukuá Kipeá, has no native speakers and is classified as extinct or dormant by linguists. However, since 1989, as part of a broader cultural reawakening, the Kariri-Xocó have initiated a revitalisation of the language, and are currently running twice-weekly language lessons for children and a WhatsApp group for youth and adults. The language teachers, supported by Nhenety ('the Guardian of Traditions'), have drawn on their community memories of the Dzubukuá Kipeá language through songs and stories, and are gradually filling gaps in vocabulary by consulting historical archives and by communicating with ancestral spirit guides. Graphic icons are selected for each word, paired with a Portuguese translation, and disseminated by WhatsApp to Kariri-Xocó young people and adults.
The global crisis in cultural diversity is currently highlighted by UNESCO's designation of 2019 as the Year of Indigenous Languages: linguists estimate that up to 90% of the world's 7000 languages may become extinct by the end of the 21st century (Krauss 1992), and there are now many projects globally that aim to support and maintain endangered languages and their speakers, particularly children. The revitalisation of the Dzubukuá Kipeá language offers unique insights into this process for several reasons:
a) the impetus originated entirely within the Kariri-Xocó Indigenous community (rather than from linguists, anthropologists, missionaries, etc);
b) the entire language family was effectively extinct before revitalisation, so no native speakers of Dzubukuá Kipeá or related languages could be involved;
c) the revitalised vocabulary and grammar is informed by native spiritual traditions, is considered a precious cultural asset by the speakers, and will take on an interesting life of its own as more young people use the language and add words and grammar to it;
d) use of digital social media (WhatsApp) as a tool for pedagogy and dissemination of vocabulary is a significant cultural innovation.
This is a rare example of language emergence in extraordinary circumstances. In this context, Language Acts and Worldmaking supported Prof Thea Pitman, Professor of Latin American Studies, and Dr Diane Nelson, Senior Lecturer in Linguistics, both at the University of Leeds, to use their specialist expertise to support the community, and in doing so to explore the unique features of this grassroots revitalization initiative where native spiritual traditions, digital technology, and Indigenous activism have come together to transform the linguistic and cultural landscape.
In November 2019, Thea and Diane organised a focus group and series of meetings and interviews in the Kariri-Xocó community, in order to build links with the community as well as set a collaborative research agenda for the project in the future. The event brought together key members of the Indigenous community, especially the Guardian of the Traditions, Nhenety; language teachers Idiane and Kawrã; NGO Thydêwá director, Sebastián Gerlic, as well as students at the language school, parents and other community members.
The grant also allowed Thea and Diane to take one of the Indigenous language teachers (Idiane) to Rio de Janeiro to participate in an important academic symposium on Indigenous language revitalisation run by Professor Bruna Franchetto and her team (Viva Lingua Viva, Museu Nacional/Universidade Federal do Rio de Janeiro, 11-14 Nov 2019).
Report
The outcomes of these activities were very positive. Thea and Diane made new contacts and developed closer ties with several key members of the Kariri-Xocó community, who were in turn able to assert and clarify a range of social, political and pedagogical goals in working with them to revitalise their language. The Kariri-Xocó language teacher (Idiane) reported that she benefitted enormously from participating in the Viva Língua Viva conference: by giving a talk at the event she was able to give voice to her community's achievements to a wider academic audience; she made valuable contacts with other indigenous language activists; and the pedagogical workshops supported and energised her own teaching activities.
"Overall, we were inspired by the energy, creativity and dynamism of the Indigenous language activists we encountered, particularly in the difficult political and economic climate of Bolsonaro's Brazil. We also developed a greater understanding of the ethical complexities around working with an Indigenous community in the context of extreme financial and social inequalities, and a greater sensitivity to the decolonisation agenda in research objectives and methodologies. We aim to ensure that any future research collaboration with the Karir-Xocó brings maximum cultural and material benefits to the community in a non-extractive, positive way" - Thea Pitman and Diane Nelson
An open letter written by the Indigenous participants at the symposium to the Brazilian government can be read here. Idiane is the first person speaking after the sequence of stills from the event.
For more information on the Kariri-Xocó Indigenous Language Revitalization Project as a whole, see the project website. Thea and Diane will be posting the slides/video of the presentation in Rio in due course, as well as the pedagogical materials that they're developing.