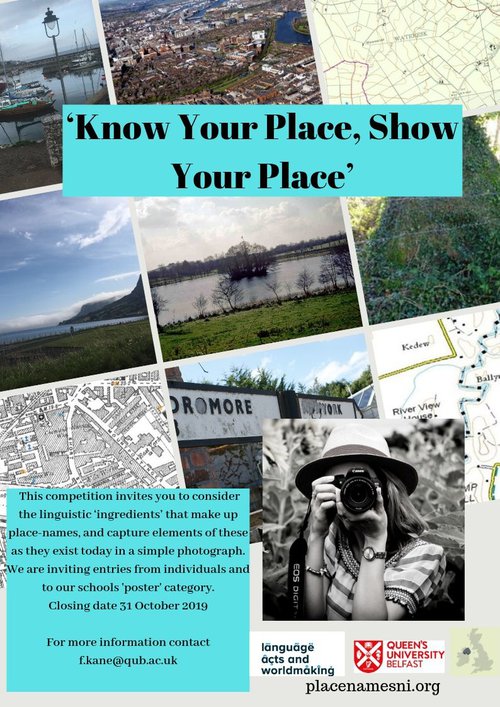 About
Place-names are precious relics of times gone by, telling us not only about how our predecessors saw the world around them, but also preserved linguistic secrets that can tell about the languages and varieties spoken by inhabitants of our native places over time.
In 2019, Language Acts supported Dr Frances Kane to run the Know Your Place, Show Your Place photography competition. An offshoot of the Northern Ireland Place-Name project, Know Your Place, Show Your Place invites both Northern Irish and Irish members of the public to consider the linguistic 'ingredients' that make up their places, and capture elements of these as they exist today in a simple photograph.
Such examples might be the beach in the Irish townland name Ballintrae (Baile an Trá 'townland of the strand' 'townland of the strand'), the remains of the church in the Scots name Kirktown 'churchtown' or perhaps an image of someone caught in a breeze at Windyhill, or a particularly interesting street or road sign. Others might be lucky enough to capture a badger at Carnbrock (Carn Broc 'cairn of badgers') or attempt to climb Slieve Patrick (Sliabh Pádraig 'Patrick's Mountain) to get a snap of the tallest statue (in the world) of the saint which sits at the top.
The 2019 competition
Know Your Place, Show Your Place has two competition categories, for schools and for adults. In the 2019 competition, the winners were Christopher Morrow (adults), and Clíodhna Donnelly (schools).
Of his entry 'Tamlaght', Christopher said:
My photographs were taken within the Ancient Parish of Tamaght Finlagan in the area of Ballykelly, Co Derry. The photos were taken specifically in the townland of Tamlaght. Taken from the Irish 'Tamhlacht' it means 'burial ground' or 'sanctuary'. The ruins pictured are of the old parish church which was built upon a monastery founded there by Saint Findluganus in 585 AD. Saint Findluganus was known to Saint Columba who attended the Drumceatt Synod in the area around 574 AD. The ruined church pictured is actually mentioned in papal paper work dated 1291. By 1622 however, the church was in ruins and today all that is left of it is the gable end pictured in the photographs.
Clíodhna, aged 9, said of her entry 'Eglish':
'Eaglais' means 'the church'. The stone crosses from the 9th/10th century in the graveyard prove the ancient use of this site. The remaining wall is from a Church of Ireland Chapel of Ease built in 1720 which was replaced in 1821 by a new church at Drumsallan. Local lore says that the last wall will fall on a 'Donnelly', a common surname in the area and the surname of the photographer who is pictured in the doorway!
Christopher and Clíodhna will be presented their prizes at the Spring Lecture of the Ulster Place-Name Society in May at QUB.