About the project
This project, led by PhD researcher Kate Lightfoot, was a one-day introduction to French linguistics offered to heritage French speakers in London. Research suggests that heritage speakers generally do not have positive experiences learning their language in the classroom. The project therefore aimed to provide interactive mini lectures by academics from University of Cambridge, Newcastle University, Anglia Ruskin University, and University of Westminster, to allow students to explore their multilingual identity and the relationship between their heritage language and their main language, both linguistically and culturally. A report from Kate on the outcome of the taster day is below.
If you are a heritage speaker of French (you speak some French at home but English at school) and are aged between 10 and 20, please consider participating in Kate's online survey for her doctoral research.
Report
On Monday 20 January 2020, heritage French speakers from London and Essex schools met at the University of Westminster for a linguistics taster day. The event consisted of four lectures relating to French that introduce key concepts in linguistics, delivered by academics from UK universities. These were:
What's so standard about 'standard' French? – Dr Jonathan Kasstan (University of Westminster)
The sounds and structures of French: a comparative view – Professor Michelle Sheehan (Anglia Ruskin University)
Heritage languages: why are they special? – Kate Lightfoot (Anglia Ruskin University)
French around the world – Dr Damien Hall (Newcastle University)
In these lectures, students learnt about various French accents and how they are linked to linguistic discrimination, the development of Latin into modern-day French, and the connections between words in the Romance family of languages. The students used their French language skills to decipher words from Latin and make connections between words in French, Spanish, Portuguese and Italian, such as in this example:

We also talked about bilingualism and the different types of bilingual speakers that exist. Students engaged in a lively discussion about some controversial questions about heritage languages. For example, 'Do we expect a heritage speaker not to make mistakes in their heritage language?' and 'Should heritage speakers have to study a different language at school?'. The day ended with a talk on French around the world. This was particularly exciting as many of our participants spoke African varieties of French and were able to compare and contrast the speech from the video we watched to their own varieties!
Before coming to the taster day, students were invited to take part in a competition entitled 'What does being a French speaker mean to you?'. They were free to submit their response in whatever form they liked. We received some fantastic entries, including: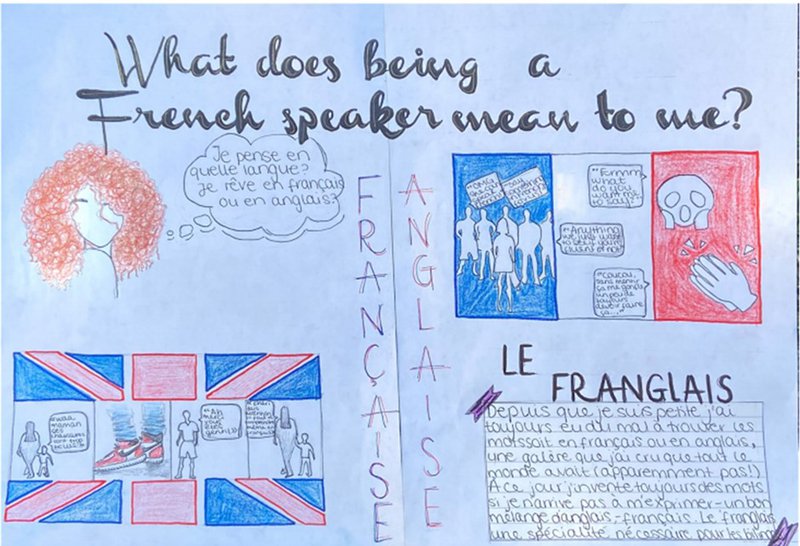 And our winner was a fantastic poem written by Capucine!
Que Signifie Pour Moi Le Français ?
Que signifie pour moi le français ?
En entendant la question pour la première fois,
J'ai répondu avec beaucoup de difficulté.
J'avoue que je n'y avais jamais vraiment pensé.

Le français est si important pour moi
Comment pourrais-je ne pas savoir pourquoi?
J'ai juste haussé les épaules, car je ne savais pas quoi dire.
Une fois à la maison, j'ai raconté l'histoire à ma mère
J'étais très surprise de l'entendre rire
Elle m'a regardé avec un air pensif et un sourire.

Et elle a dit: «l'importance d'une langue ne peut pas être exprimé avec des simple mots.»
Si vous pouvez voir au-delà de l'ironie de cette phrase,
Vous pouvez comprendre la vérité en elle.
Je pourrais vous dire que le français est parlé à travers cinq continents,
Ou je pourrais vous raconter comme cette langue est belle.
Mais pour vous faire comprendre, je devrais concocter une potion
Contenant la culture et l'amour des générations.
J'y mettrais le bleu du ciel et le blanc des nuages
Pour représenter les qualités qu'on partage.
Et enfin le rouge du sang qui coule dans nos veines
Pour montrer que l'unité surmonte la peine.
After the event, some of the attendees wrote articles for their school websites. One of the articles says,
'This was a great opportunity for the bilingual French students to take part in a fascinating programme of four mini lectures. It was a very insightful day… All the French students had a great time in which we took in information about bilingualism that we did not know before. One year 9 student said "it was very fascinating and I did not know that speaking more than one language meant that your mental capacity was higher than the average person." Another student said "it was interesting how people have different accents in France and how they can be treated differently especially in politics"…Having this is experience was truly beneficial and we are very grateful.'
At the end of this blog post is an article written by another of the attendees which discusses what she learnt about French regional accents during the taster day.
It was fantastic to meet so many talented young linguists and I am delighted that the taster day was so well received. The feedback was very positive, and many of the students said they would recommend the taster day to a friend.
I am most grateful to the participants, their schools, and the teachers who accompanied them. A big thank you, also, to my colleagues, Professor Michelle Sheehan, Dr Jonathan Kasstan, and Dr Damien Hall for giving up their time to present at the taster day. Lastly, my thanks go to Language Acts and Worldmaking for funding the event.
Kate Lightfoot
French regional accents
Accents vary all over the world depending on where you are from and what region. In this case, French accents can vary depending on where you are from. We know that learning a different language or knowing a different language from birth can be very good as it opens new doors and can allow you to talk to different people of different backgrounds, but the way you speak it can sometimes be a barrier, as some people may not understand your accent.
All over the world, all French speakers have a slight accent varying from the speed to the way they say different words. Some native French speakers learn French from the way it is spoken in the surroundings, for example the correct French way of saying have you eaten is "Est-que tu as mangé?" whereas the way I heard it being said in my Congolese family was "Chia mangé? ".
Standard French can be heard in the news and is used in more formal events and situations such as business meetings. Standard French can show authority and how educated you are.
The standard of French was first spoken by the ones in power as they had chosen how they liked it and what was normal as in the time of when French was introduced, there was no French spoken so it was easy to normalise it as the inhabitants of France did not know what it was when it was prescribed to the public.
Accents in France can vary from region to region. The well-known southern accent in the south of France is the "chantant" accent. Those from the southern France have a tendency to elongate their words and sometimes add an "ehh" to the end of their words, therefore is known as the "chantant" French.
Although French accents are celebrated and are found attractive to some ears, accents in some parts of the corporate world are ridiculed and frowned upon. Surveys have shown that people with different accents are discriminated in the workplace and sometimes cannot get a job. Their fellow northern employees are made examples and they are told that if they speak French like them they could get a job promotion or further in life.
For more information about different accents, you can go to the France 24 YouTube channel and watch the following video: "French regional accents: source of pride or discrimination?"
By Eleonore