Home
Aims
Programme
Participate
Videos
Reports
Theme Groups
Contact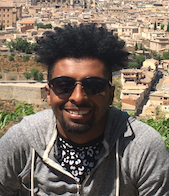 Eduard Arriaga
Eduard Arriaga is an Assistant Professor in the Department of Global Languages and Cross-Cultural Studies. He holds a PhD in Hispanic Studies and Migration Studies from Western University (Canada). His teaching and research revolve around issues of race/ethnicity and digital production, digital humanities and knowledge production, languages and digital humanities. He is the author of several books and articles on literature, digital humanities and critical digital discourse analysis. Finally, he is the editor of "Afro-Latinx Digital Connections" an edited volume to be published in the Spring 2021 by University Press of Florida. 
---
Bunty Avieson
Dr Bunty Avieson is a lecturer in the Department of Media and Communications at the University of Sydney. In 2019 she was awarded funding from the Australian Research Council to undertake a three-year project working in Bhutan to develop the dormant Dzongkha Wikipedia site as an antidote to the threats posed by English Wikipedia to global diversity and cognitive justice. Avieson, a former journalist, spent a year in 2008-2009 in Bhutan as a media consultant jointly funded by the United Nations and the Bhutan Observer newspaper, and as a consultant to Reporters Without Borders. This provided the opportunity to undertake research for her PhD thesis, which she completed in 2013, receiving the Vice Chancellor's Commendation from Macquarie University. Her research interests include the developing mediascape of Bhutan, memoir, journalism and Wikipedia studies.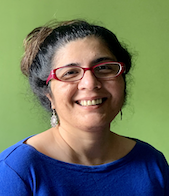 Kalika Bali
Kalika Bali is a Principal Researcher at Microsoft Research India working broadly in the area of Speech and Language Technology especially in the use of linguistic models for building technology that offers a more natural Human-Computer as well as Computer-Mediated interactions, and technology for Low Resource Languages.  She is a linguist by training and technologist by profession, and believes that local language technology especially with speech interfaces, can help millions of people gain entry into a world that is till now almost inaccessible to them.


---
Pascal Belouin
Pascal Belouin is an IT Researcher at the Max Planck Institute for the History of Science. An experienced software engineer and web developer, Pascal's main research interest is the application of various social science theories and methods to the elaboration of novel software development methodologies. https://www.mpiwg-berlin.mpg.de/users/pbelouin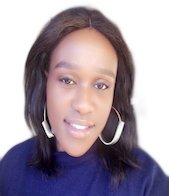 Andiswa Bukula
Andiswa Bukula is a language researcher at the South African Centre for Digital Language Resources (SADiLAR) hosted at the North-West University in Potchefstroom, South Africa. As a young researcher Andiswa is determined to broaden her understanding about Digital Humanities and how some of its approaches can be utilised in order to make a positive contribution to the development of the isiXhosa language and other indigenous languages. She aims to do this through equipping herself with skills on the use of computational approaches, annotation and data analysis tools.
Andiswa's personal research interest lie in the developing and elevation of South African indigenous languages.
---
Michael Castelle
Michael Castelle is Assistant Professor in the Centre for Interdisciplinary Methodologies at the University of Warwick. His current research explores the relationships between 21st-century machine learning and AI—with its roots in the behaviorism, cognitivism, and connectionism of the 20th century—and sociological/anthropological theory. He also has recently authored or co-authored papers for workshops in natural language processing (NLP) on the subjects of the classification of abusive language and propaganda. In general, his work combines historiographic and social-scientific methods to address the cultural relevance of contemporary technologies and techniques. He holds a Ph.D. in Sociology from the University of Chicago and an Sc.B. in Computer Science from Brown University.
Peter Chonka
Peter Chonka is a Lecturer in Global Digital Cultures at King's College London. His research looks at how digital platforms affect politics, civil society activism, and conflict in so-called 'fragile' states. He has a long-standing regional interest in the Horn of Africa and often focuses on Somali-language media networks and their influence on the cultural politics of state reconstruction in this part of the world. 
For more on his research see: https://kclpure.kcl.ac.uk/portal/en/persons/peter-chonka(fb1dfcce-e111-4682-a946-2e509ae9623f)/publications.html
Matteo Dutto
Matteo Dutto is Postdoctoral Research Fellow at Monash University in the School of Languages, Literatures, Cultures and Linguistics. His research explores how cultural producers collaborate with Indigenous, migrant and multi-ethnic communities to produce transmedia and transcultural counter-narratives of belonging and identity. His work has been published inStudies in Documentary Film, Modern Italy and Altreitalie. His first monograph Legacies of Indigenous Resistance was published by Peter Lang Oxford in 2019 and he recently collaborated to the production of the Australian Indigenous Film and Television (AIFTV) online knowledge sharing platform.
Link to personal website: https://research.monash.edu/en/persons/matteo-dutto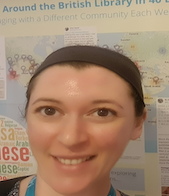 Jessica Green
Jessica Green has a Masters degree in Library and Information Science from Simmons College, as well as undergraduate degrees in German Studies and Theatre from Wesleyan University. After emigrating from the US to London in 2013, Jessica launched her professional career on the digital side of libraries and archives, working first at the Wiener Library for the Study of the Holocaust and Genocide, and most recently at the British Library. As an undergraduate, she also lived and studied in Germany for several years, as well as gaining a limited knowledge of Spanish, French, Esperanto and Russian. In her role as Project Analyst in the British Library's Heritage Made Digital Team, she spearheaded the year-long #AtoUnknown Twitter campaign as an extension of her love of languages and desire to connect people around the world to digitised heritage collections in and about these languages held at the British Library and beyond. https://twitter.com/BL_MadeDigital
---
Andrew Janco
Andrew Janco is the Digital Scholarship Librarian at Haverford College. He holds a PhD in History from the University of Chicago and an MS in Library and Information Sciences from the University of Illinois Urbana-Champaign. Janco has organized and taught workshops on natural language processing at DH2019, DH Budapest, the Illinois iSchool and code4lib. He is part of several grants related to linguistic diversity, including a grant from Stanford University on "Computational Criticism of Russian Literature" and a proposed Level III Digital Humanities Advancement Grant, "Multilingual BookNLP: Building a Literary NLP Pipeline Across Languages" (submitted January 2020 by PI David Bamman). A historian of Russia by training, Andrew is a leader in the field of Slavic DH and has directed the Digital Humanities affiliate group of the Association for Slavic and East European and Eurasian Studies (ASEEES) since its founding in 2015.
My webpage: https://apjan.co/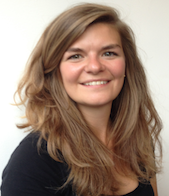 Anna Jørgensen
Anna Jørgensen is a Marie Curie fellow and PhD Candidate at the Media Studies department at the University of Amsterdam. Her research focuses on Wikipedia, cross-lingual event-centric cultural analytics, knowledge representation and data visualisation. Before starting her PhD, she was a computational linguist at Google working on the Google Assistant.



---
Lucie-Aimée Kaffee
Lucie-Aimée Kaffee is a PhD student at the School of Electronics and Computer Science, University of Southampton, as part of the Web and Internet Research Group. She is a research associate at the TIB Scientific Data Management Research Group in Hanover and was part of the part of the Marie Skłodowska-Curie ITN WDAqua.
Ioana Alexandra Lionte
Ioana Alexandra Lionte is currently an assistant professor at the "Grigore T. Popa" University of Medicine and Pharmacy where she teaches English and French. In 2018, she benefited from a COST grant (COST Action "Distant Reading for European Literary History" (CA16204) ) and attended the  "Optical Character Recognition and Text Encoding for the production of ELTeC contributions" Training School in Würzburg, Germany. In 2019 she became a member of the research team conducting the ongoing HAI-RO project (PN-III-P3-3.1-PM-RO-FR-2019-0063) entitled Hajduk Novels in Romania During the Long Nineteenth Century: Digital Edition and Corpus Analysis Assisted by Computational Tools that seeks to remedy the shortcomings of the resources/digital instruments specially dedicated to literary research. She is also a member of the Digital Humanities Laboratory (UAIC).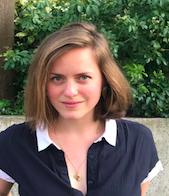 Leonore Lukschy is a Senior Archive Assistant and Communications Officer at the Endangered Languages Archive (ELAR), and Associate Lecturer for German at Oxford Brookes University. She holds a GradCert in Linguistic Studies from Birkbeck, and is currently completing an MA in Language Documentation and Description at SOAS, University of London. Her research focuses on Mexican languages, and community-based language documentation. She is currently in charge of the technical management of virallanguages.org- an initiative to produce oral translations of COVID-19 information in marginalised languages.
---
Ethem Mandić
Ethem Mandić was born on December 12, 1986. in Podgorica. He finished elementary school and high school in Podgorica. He graduated from the Faculty of Philosophy in Nikšić, and spent one year of study at the Faculty of Philosophy in Zagreb as a scholarship holder of the Ministry of Science, Education and Sports of Croatia. He got his Master's degree at the Faculty of Philosophy in Sarajevo, Department of Literature of the Peoples of BiH and the Bosnian Language. Currently he is third year PhD student at the Philosophical faculty in Zagreb. He is the winner of prestigious price for young scientist Danubius Young Scientist Award for 2019.
He published papers for several professional and cultural and literary journals, author of three books and was a participant and organizer of several important international scientific symposiums. He works as a teaching associate and Vice dean for science and international exchange at the Faculty of Montenegrin Language and Literature.
Milan Marković
Milan Marković was born in Podgorica in 1986. He finished elementary school in Danilovgrad and secondary school in Podgorica, bachelor and specialist academic studies at the Faculty of Philosophy, University of Montenegro in Nikšić, where he graduated in 2009. He finished his master studies at the Faculty of Philosophy in Nikšić, University of Montenegro in 2017, in the field of Montenegrin Language and Southslavic literature (literature science). He is a doctoral student of philology at the International University in Novi Pazar, Serbia.
He is a teaching assistant at the Faculty for Montenegrin Language and Literature in Cetinje, on subjects World literature VII and South Slavic literature of XX century. He is the author of several scientific and expert papers in the field of literature science and the monograph study Deconstruction of Christian Myth in Pekić's "Time of Miracles"which was published in 2018.
He has participated in several scientific conferences and symposia in the country and the region. During 2018, he was the leader of a project called Montenegrin Language Course in South America. As part of the project, he gave lectures on the Montenegrin language in Buenos Aires, Argentina and Montevideo, Uruguay.
He is the secretary of editorial board of the international journal Lingua Montenegrina.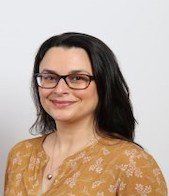 Sarah McMonagle
Dr. Sarah McMonagle works at the Coordination Office for Multilingualism and Language Education at the University of Hamburg. She obtained her PhD in Language Policy and Planning from Ulster University in 2010 for an interdisciplinary thesis on the role of the Irish language in peace and conflict in Northern Ireland. In 2011 she joined the University of Hamburg as a postdoctoral researcher where she developed projects exploring the role of digital media for the use, maintenance and revitalisation of minority languages. Her primary research interest is in 'new' domains for minority language use and learning, such as digital platforms, diasporic communities and urban settings.  She also teaches on the Master's Programme Multilingualism and Education at the University of Hamburg. 
---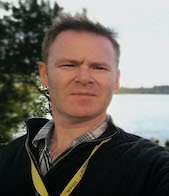 Caoimhín Ó Dónaill
Caoimhín Ó Dónaill is a Senior Lecturer in the School of Arts and Humanities and a member of the Modern Languages and Linguistics Research Institute (ICSRI) at Ulster University. He has a Ph.D from Trinity College Dublin in the area of Medieval Irish language and literature. He has worked on a series of publicly funded projects at Ulster, such as the Electronic Dictionary of the Irish Language (eDIL), Linking Dictionaries and Texts (LDT), the Centre for Excellence in Multimedia Language Learning (as Learning Technologist and Assistant Director), the New Third Level Syllabus for Irish (www.teagascnagaeilge.ie) and the EACEA funded Tools for CLIL Teachers and Pools3 projects (www.languages.dk). He has extensive experience in developing and sharing good practice in the area of Computer Assisted Language Learning (CALL) and Content and Language Integrated Learning (CLIL). He is currently a member of the Erasmus+ funded CLIL Open Online Learning project (2018-2021).
https://www.ulster.ac.uk/staff/c-odonaill
---
Roxana Patraș
Roxana Patraș, PhD in Philology (2012), is a Senior Researcher (Cercetător Științific gr. II) at the Institute of Interdisciplinary Research, "Alexandru Ioan Cuza" University of Iași.
Books: Cântece dinaintea Decadenţei. A.C. Swinburne şi declinul Occidentului (2013); Spații eminesciene. Studii de poetică și stilistică (2017), The Remains of the Day: political oratory and literature in 19th-century Romania (2018).
Scholarly editions: G. Ibrăileanu, Scrieri alese (2010); Oratorie politică românească (1847-1899), 3 vol. (2016).
Visiting scholar of Trier Center for Digital Humanities, Antwerp Center for Digital Humanities and Literary Criticism, Universite Sorbonne Nouvelle-LATTICE. Member of Cost Action16204: Distant Reading for European Literary History(2017-2021). In collaboration with University "Sorbonne Nouvelle"-Paris 3 and LATTICE Laboratory, Roxana has started a project on Romanian popular fiction entitled HAJDUK NOVELS IN ROMANIA DURING THE LONG NINETEENTH CENTURY: DIGITAL EDITION AND CORPUS ANALYSIS ASSISTED BY COMPUTATIONAL TOOLS.
Roxana does research in History of Romanian Literature, 19th-century European Literature, Literary Theory, Rhetoric, and recently DLS. Her current research interest is in 19th-century Romanian Popular Fiction (emerging novel genres) and in the theory of paratext.
Ernesto Priani Saisó
Ernesto Priani Saisó es filósofo y humanista digital. Profesor de tiempo completo en la Facultad de Filosofía y Letras de la UNAM. Es director del proyecto de edición y laboratorio de investigación digital Biblioteca Digital del Pensamiento Novohispano, y del grupo académico Marsilio Ficino. Es presidente de la Red de Humanidades Digitales.
Ernesto Priani Saisó es profesor de tiempo completo en la Facultad de Filosofía y Letras en la Universidad Nacional Autónoma de México (UNAM). Realizó estudios de doctorado en Filosofía en la misma universidad recibiéndose con una tesis sobre la historia de las formas subjetivas del placer. Su trabajo conjuga el estudio de la filosofía del renacimiento, particularmente el renacimiento florentino, con la problemática de la historiografía de la historia de la filosofía y la exploración de la utilización de dispositivos tecnológicos para la investigación en humanidades. Es director del proyecto de edición y laboratorio de investigación digital Biblioteca Digital del Pensamiento Novohispano, y del grupo académico Marsilio Ficino. Ha sido profesor visitante en la Universidad de Brown, en Estados Unidos, la Universidad Javeriana de Cololombia y la Universidad de Roma Tres. Ha publicado ente otros, Los libros del Placer, Magia y hermetismo y De espíritus y fantasmas. De manera resiente coordinó la traducción y publicación de las 900 tesis de Pico della Mirandola (primera traducción al castellano) y este año publicó Una Mirada al Libro electrónico, escrito junto con Isabel Galina. Es presidente de la RedHD (Red de Humanidades Digitales), miembro de la Alianza de Organizaciones de Humanidades Digitales (ADHO), el grupo Global Outook Digital Humanities (GO::DH) y el Virtual Humanities Lab de la Universidad de Brown. 
Ernesto Priani Saiso is professor at the Faculty of Filosofía y Letras at the Universidad Nacional Autónoma de México (UNAM). He has a PHD in philosophy at the same university, with a thesis on the history of subjective forms of pleasure. His work combines the study of the philosophy of the Renaissance, particularly the Florentine renaissance, with the problematic of the historiography of the history of philosophy and the exploration of the use of technological devices for research in humanities. He is the director of the Digital Research and editing project Biblioteca Digital del Pensamiento Novohispano. He has been a visiting professor at Brown University, in the United States, the Javeriana University of Cololombia and the University of Rome three. He has published Los libros del placer, magia y hermetismo and Espiritus y fantasmas. He coordinated the translation and publication of the 900 thesis of Pico della Mirandola (first translation into Spanish). He has published numerous articles on Renaissance philosophy and digital humanities. He is president of the RedHD (Digital Humanities Network), member of the Alliance of Digital Humanities Organizations (ADHO), the global group Outook Digital Humanities (GO:: DH), and the virtual Humanities Lab of Brown University. 
Stuart Prior
Stuart Prior is a project coordinator at Wikimedia UK, working in open knowledge and the Wikimedia movement for the past 5 years.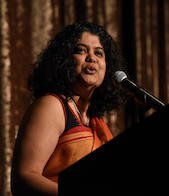 Anasuya Sengupta
Anasuya Sengupta is Co-Director and co-founder of Whose Knowledge?. She has led initiatives in India and the USA, across the global South, and internationally for over 20 years, to amplify marginalised voices in virtual and physical worlds. She is the former Chief Grantmaking Officer at the Wikimedia Foundation, former Regional Program Director at the Global Fund for Women, and a 2017 Shuttleworth Foundation Fellow. She received a 2018 Internet and Society award from the Oxford Internet Institute. Anasuya holds an MPhil in Development Studies from the University of Oxford, where she studied as a Rhodes Scholar. She also has a BA in Economics (Honours) from Delhi University. When not rabble-rousing online, Anasuya builds and breaks pots, takes long walks by the water and in the forest, and contorts herself into yoga poses.
2019 convening report: https://whoseknowledge.org/wp-content/uploads/2020/02/DTIL-Report.pdf
Twitter account: @Anasuyashh
---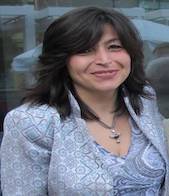 Mandana Seyfeddinipur
Mandana Seyfeddinipur is a PhD in linguistics, Director of the Endangered Languages Documentation Programme and Head of the Endangered Languages Archive at SOAS University of London. Her main focus is documentation of endangered languages, language use and video recording. She trained at the Freie Universitaet Berlin, the Max Planck Institute for Psycholinguistics and at Stanford University. 




---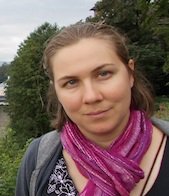 Elizabeth Marie Thaut
E. Marie Thaut is Project Manager of the Sylheti Project (sylhetiproject.wordpress.com), a student-led extracurricular community documentation project, founded by Dr Candide Simard at SOAS in 2012 with an invitation from the Surma Community Centre, Camden, which supports North London's Sylheti speakers. Sylheti is a minoritized language that lacks recognition, often dismissed as a 'dialect of Bengali' but is the language spoken by the majority of 'Bengali'-origin people in the UK. 
The Sylheti Project has produced a dictionary app, published a storybook in the endangered Syloti Nagri script, held an international academic conference, consulted on the ONS Well-being Survey, and participated in other outreach events.
Marie also founded and coordinates lessons for the SOAS Sylheti Language Society that runs language lessons to learn the Sylheti language as well as develop teaching materials.
With qualifications:
MA in Language Documentation and Description (in progress) at SOAS, University of London
BA in Language Sciences from Lumière University Lyon II, France
BA in South Asian Studies & Urdu language from INALCO, Paris, France
BA in Didactics of French as a Foreign Language from INALCO, Paris, France
---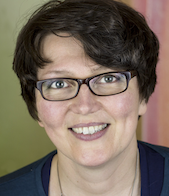 Cosima Wagner
Cosima Wagner is academic librarian at Freie Universität Berlin, University Library, with a background in Japanese Studies, History and Library & Information Science. After ten years as faculty member (research fellow, assistant professor) at the institute for Japanese Studies of Goethe-University / Frankfurt she is since 2013 serving as liaison to the East Asian Studies faculty at Freie Universität Berlin with a special focus on Digital Humanities, Research Data Management and Open Science. 
Her research interests include a Science & Technology Studies approach to library infrastructure management, multilingualism and non-Latin scripts in the digital space, Area Studies librarianship as well as critical algorithm studies and social robotics in Japan (Monograph: Robotopia Nipponica. Recherchen zur Akzeptanz von Robotern in Japan, Tectum 2013).
In her current project on "Libraries as partners of the internationalization strategy of Freie Universität Berlin" she aims at building (new) paths for an international exchange on the topic of research libraries in the digital age in general and on multilingualism and knowledge infrastructures in particular.
---
Sean Wang
Sean Wang is a Project Manager at the Max Planck Institute for the History of Science. A geographer by training, Sean coordinates various digital humanities projects in Department III at the Institute, including the RISE Infrastructure.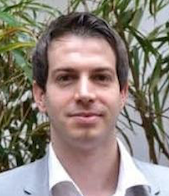 Carlos Yebra Lopez
Carlos Yebra Lopez is a Lecturer in Spanish and Portuguese Languages and Literatures from New York University. His research focuses on the intersection between language and ideology, particularly in Contemporary Spain and as it pertains to Jewish and Muslim minorities. He is the director of Ladino 21, a digital home-land created in 2017 for the purpose of documenting and celebrating Ladino (Judeo-Spanish) as it continues to be spoken in the 21st century. An extended version of his lightning talk for this event can be accessed here


---
Isabelle A. Zaugg
Isabelle A. Zaugg, PhD is a communication scholar and filmmaker whose research interests revolve around language and culture, media, and digital technologies in the global public sphere.  Her research investigates the relationship between gaps in support for digitally-disadvantaged languages and patterns of mass extinction of language diversity.  A primary focus has been studying the digital history and online vitality of the Ethiopian and Eritrean languages that utilize the Ethiopic script.  Her research addresses the extent to which the script and its languages are supported in the digital sphere, including tracing the history of its inclusion in Unicode.  Dr. Zaugg has proposed policy, governance, and advocacy solutions to better support digitally-disadvantaged languages, in turn supporting their long-term survival.  
Dr. Zaugg is a Postdoctoral Research Scientist at Columbia University's Data Science Institute and a Lecturer at the Institute for Comparative Literature and Society.  She earned her PhD in Communication and MA in Film & Video from American University in Washington, D.C.  She earned a BA in Art Semiotics from Brown University, and is an alumna of the United World College of the Adriatic.  She hails from the San Luis Valley of Colorado, U.S.A., and calls Addis Ababa, Ethiopia home.  
Website: https://isabellezaugg.com/
---