Introduction
Programme
Speakers
Abstracts
Practical Information
Blog
Video and Audio
Modern Languages research increasingly happens in a context which is influenced by digital culture, and although this is often forgotten or ignored, global digital culture is profoundly multilingual. But what do we really understand about interactions (and tensions) between the two? How is Modern Languages research transformed by digital culture, and how can a multilingual perspective help us to engage with the 'Digital' more effectively? This workshop aimed to critically examine the current state of Modern Languages research which is somehow digitally mediated—whether that be in its creation (editing), methods (virtual ethnography; social and cultural analytics; distant reading), transmission (as code), dissemination (digital publishing; visualisation), object of study (as 'data'), infrastructure (digital archives; ecosystems), mobility/mutability or its social dimension (crowdsourcing; social media). It explored how the study of other cultures, their languages, literature, art and history are altered as a result, and what this means for researching (and learning) modern languages. The workshop brought together a range of academics, digital practitioners and cultural sector respondents in order to study the challenges and opportunities in merging digital and non-digital methods into an approach which integrates critical thinking, humanities-based interpretative skills, creativity and digitally mediated knowledge production.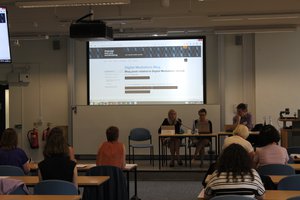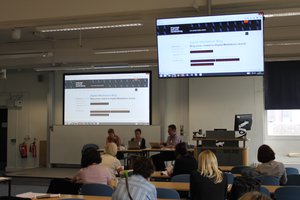 The workshop set out to explore the following questions:
How does digital culture alter the way that Modern Languages research is carried out?

How have research questions relating to Modern Languages been articulated (and answered) using digital technology?

How have scholars and practitioners studying 'the digital' approached and interpreted Modern Languages research? What tools and methodologies have they employed, and what opportunities are there for broader application?

To what extent have networked communication, open culture and the so-called 'wisdom of the crowd' influenced the execution and transmission of Modern Languages research and what are the opportunities/barriers?             
What new research methods or research objects are created as a result? And what implications does this have for teaching/learning?