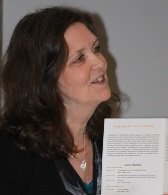 Primary Investigator, and Translation Acts Strand Lead
Catherine is Professor of Latin American Cultural Studies at King's College London. She has published widely on Latin American culture, theatre and performance and women's writing and gender. She was a co-founder of the Journal of Latin American Cultural Studies. She is a translator of Latin American theatre and poetry, and her most recent research is on the meeting places of translation and cultural history. From 2008 to 2012 she was the Principal Investigator on the AHRC-funded, Spanish and Spanish American Theatres in Translation: A Virtual Environment for Research and Practice, better known as Out of the Wings. Out of the Wingsgrew out of the certainty that academic research and artistic practice have a creative meeting point, capable of producing innovative work. In 2009, along with Sue Dunderdale and Karen Morash, Catherine created the Head for Heights Theatre Company, dedicated to the performance of theatre from cultural extremes and marginality, and in 2011 the company premiered her translation of Las brutas / Beasts, by Chilean dramatist Juan Radrigán.
Becoming the Principal Investigator for Language Acts and Worldmaking, and strand lead for Translation Acts, offers Catherine a wonderful opportunity to develop the experience of the collective process of theatre translation in a broader research and educational context. Language Acts and Worldmaking has it its heart the question of the work that words, that languages, do in the world and theatre translation allows us to explore these questions in the most immediate and lively ways possible. Processes of translation, including the translation of methods and practices, teach us that each person has a role to play in the development of the end piece, and that in this way we become co-researchers using our various skills and knowledge to one end. Working with schools, with theatre groups and with community organisations, Catherine and colleagues will use translation and theatre-making to activate people's innate powers of expression through languages, and to explore the key concepts that inform the project, such as tolerance, mobility and migration.