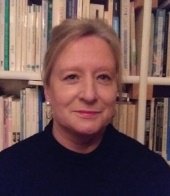 Deputy Director, Language Transitions Strand Lead
Debra is Professor of French and Francophone Studies, Department of Modern Languages and Cultures, University of Westminster, London. In 2005 she was made a Chevalier dans l'Ordre des Palmes Académiques by the French Government in recognition of her services to French language, literature and culture.
Current research interests include the cultural history of the French and Francophone presence in London from the seventeenth century to the present day (A History of the French in London: Liberty, Equality, Opportunity, 2013). She is currently writing a book on the place of French food – and of those associated with it – in the British capital from the nineteenth to the twenty-first centuries. The focus on what happens to food, and to those who produce, sell, buy and eat it when it travels across cultures resonates with many of the concerns of the Language Acts and Worldmaking project.
Her interest in and commitment to the Language Transitions strand stems from her work for the last ten years as Co-Director of Routes into Languages London which supports and encourages language learners from primary through to higher education. She is also Co-Director of the Network for Languages London which provides professional development and support for all those working in the languages community across primary, secondary and further education institutions. In Higher Education, she has a particular interest in supporting doctoral researchers and she works with Westminster's Doctoral Researcher Development Programme.