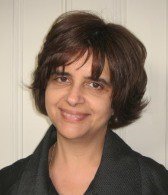 Language Transitions Strand Lead
Ana is Director of the Modern Language Centre at King's College London. She has published on French and Portuguese women writers of the 20th and 21st century and has specialized in the life writings of Marguerite Yourcenar, Assia Djebar and Marie Nimier. She was Reader in French at the University of Kent and Academic Director of the University of Kent, Paris until 2015 where she taught an MA module on questions of Trauma and Life Writing and wove authors and other practitioners into the fabric of the module. Her most recent research is on Marie Nimier's oeuvre with emphasis on issues of gender and narratology. Ana has completed co-editing two volumes of essays on Amélie Nothomb and Marie Nimier to be published in 2017.
Becoming a strand lead for Language Transitions affords Ana the exciting opportunity to continue to work in the world of languages and focus more on the various transition points in the life cycle of a language learner and how best to create a clear path between different levels so that thresholds are seen as opportunity portals rather than possible barriers. Ana and colleagues will continue to work closely with students and educators in schools and institutions to ensure that the innate language-learning skills including the mobilization of their bi- and multi- lingual home experience are maximized.